In these four chapters there are three of them continue discuss about knowing the audience of the Health Literacy (HL), so I would keep using the same title this time.


Literacy

After reading this chapter I really think that the author should put it in the first chapter instead of the 21st.

The 2003 U.S. National Assessment for Adult Literacy (NAAL), which is the most recent and comprehensive measure, defines literacy as using "printed and written information to function in society, to achieve one's goals, and to develop one's knowledge and potential". There are three type of literacy within it: prose literacy, document literacy, and quantitative literacy. And there are four levels of literacy: below basic, basic, intermediate, and proficient. Here is the research result of each literacy and level:
| | | | |
| --- | --- | --- | --- |
| | Prose Literacy | Document Literacy | Quantitative Literacy |
| Below Basic | 14% | 12% | 22% |
| Basic | 29% | 22% | 33% |
| intermediate | 44% | 53% | 33% |
| Proficient | 13% | 13% | 13% |

The author also lists out the four skills that a reader needs:

1. Print skills——knowing that certain letter combinations have specific sounds
2. Fluency——reading speed and accuracy
3. Vocabulary——knowledge of common, everyday words as well as those more rarely used
4. Comprehension——integration of all these skills

Although the reason of reading at a below basic level might be physical, mental or cognitive, on average literacy skills start to decline when people reach 55 years old. (I will introduce HL of older adults next)

Health care requires literacy. From prescription labels, health history forms, self-care instructions, wellness information, to even the sign of "Radiology Department", rather than the "X-ray" that we usually talk in hospitals.

The author suggests that the "partnership of healthcare organizations and adult education programs" could improve health understanding. I think this research proofs her statement.


Older Adults

When people get older, they are much different than they were 2, 3 years old, as well as they were adolescences or adult. Some might still be able to walk, some, however, might be already hard to move by themselves. "Despite this diversity, a commonality as people age is that they are increasingly likely to be diagnosed with acute illnesses and chronic conditions." Furthermore, three reasons make communicating health with older people more difficult than with others:

1. New words, new technologies and new concepts sometimes are hard to learn, even against their original understanding.
2. Being ill or weak affects their physical and cognitive function.
3. Realizing one's own bodily irreversible degeneration makes them suffer emotionally.


Vision Problems

There are more than 25 million adults in the States report experiencing significant vision loss. The 1990 Americans with Disabilities Act (ADA) mandates that public facilities (like hospitals and health centers) provide reasonable accommodation for people in need. "These facilities must provide information in large print, audiotape, Braille formats, or have someone available to read information aloud."

People who are visually impaired might have not only difficulty reading the words, but also "trouble distinguishing one medication from another because pill bottles are often identical in shape and size". Although this is an old saying, we really have to put ourselves in their shoes to design a truly friendly environment.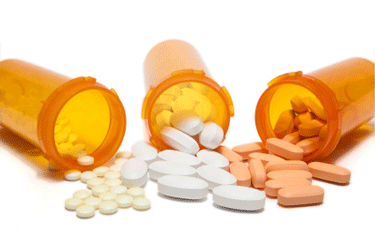 Question for thinking

One simple strategy to "discover" patients at below basic literacy level is to "accidentally" hand them the print upside down and to see if they would turn it around. But how do we distinguish basic level patients since they usually "pretend" to be not?